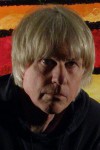 I set up sortmind.com in October 1999 as an overview of my writing and art. Since August 2010 I've also maintained a blog at blog.sortmind.com where I muse on writing and art processes.
The site is named after my novel Sortmind, published February 2019, about the telepathic Sortmind app which Mindwipes ten thousand users while hysterical factions battle in the streets over whether telepathy should be free or outlawed. It's also a coming-of-age story about Oliver and Sam, high school art students whose fathers head the reviled, fascist Citizens Against Telepathy. Sortmind Publication – What You Need to Know explains the long history of this novel, first conceived of in 1987 and thoroughly revised 2016-2019. Over the long years of endless gestation, revision, abandonment, and resurrection, the novel's title migrated to become the name of my website and of Sortmind Press.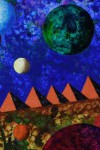 I was raised in the Northeast and the Chicago area, then moved to Texas to attend Rice University, where I began developing as a writer and visual artist. In addition to exhibiting and selling paintings and drawings, I've completed eighteen novels. The first six books of my Jack Commer, Supreme Commander science fiction series were first published by Double Dragon Publishing, then republished in 2020 by Sortmind Press: Book One, The Martian Marauders; Book Two, Jack Commer, Supreme Commander; Book Three, Nonprofit Chronowar; Book Four, Collapse and Delusion); Book Five, The Wounded Frontier; and Book Six, The SolGrid Rebellion. Book Seven, Balloon Ship Armageddon, was published in 2021, again by Sortmind Press.
CommWealth, my dystopian, black comedy novel about a society in which private property has been outlawed, was first published August 2015 by Class Act Books and republished 2020 by Sortmind Press. Other novels from Sortmind Press include The Soul Institute, inspired by dreams of a mythic return to the sanctuary of a vast foggy university of Soul; Asylum and Mirage, about a naïve artist drafted into a mindless hallucination war; Akard Drearstone, the story of a rock group facing the onslaught of national fame at its rural Texas commune; and of course Sortmind, the book this website is named for.
My writing in both literary and science fiction genres has psychological and spiritual themes, but I'm always on the lookout for the humorous aspects of any situation.
Here's What Passes for an Artist Statement on blog.sortmind.com.
All words and images copyright by Michael D. Smith