Book Four of the Jack Commer, Supreme Commander Series
As former Typhoon II ship's engineer Phil Sperry struggles with his decades-long treason to the human race, Supreme Commander Jack Commer and his wife Amav journey to the paradise planet Andertwin for a painful visit with their reclusive son Jonathan James, survivor of an abduction by Alpha Centaurian security forces and now the author of a bestselling novel about the collapse of the Centaurian empire.

Published by Sortmind Press

eBook:
Amazon
Barnes and Noble
Smashwords

paperback:
Amazon
Barnes and Noble

Reviews at Goodreads
Synopsis
Amav Frankston-Commer and her husband Jack, Supreme Commander of the United System Space Force, present their eleven-month-old son Jonathan James to guests at the 2038 wedding of time traveler Urside Charmouth. Former Typhoon II engineer Phil Sperry, damaged by his 2035 Centaurian brainwashing, has quit the USSF to become Chief of Staff to Marsport mayor and former Martian terrorist G'rea'nyaigu'nye, a name shortened by the human colonists on Mars to Greeney Gooney. Ashamed of his former obsession with Amav, Phil now has his eye on Earth Animal Rescue program director Hedrona Bhlon in her low-cut gown.

But Zarj troopers from Alpha Centauri time-kidnap Phil, Gooney, Hedrona, and the infant Jonathan James to April 2049. To Phil's horror, the commander is Clopt, who abducted the Typhoon II crew in 2035. Phil once again succumbs to the Centaurian Grid, but Hedrona resists and Gooney puts himself into a coma.

Considered an Animal, Hedrona must fight as a Gladiator of the Sled for four years. In May 2053, when the Emperor dies and the Grid collapses, Hedrona saves Phil from being killed by Animal Gladiators and the two journey to Clopt's flagship to rescue Jonathan James. The boy, now five, has a robot attendant, John Root, an irritating recreation of the youngest Commer brother John, who died ramming the Typhoon I onto Mercury. Greeney exits his coma and plans to send Martians to counsel the psychologically wounded, Gridless citizens of Alpha Centauri.

In June 2075 Jack and Amav arrive in Alpha Centauri with the Typhoon IV crew to attend Jonathan James' literary award party. They've only seen their twenty-seven-year-old son three times since 2053, as he chose to remain on the planet Andertwin with Hedrona, Phil, and Gooney. But now Gooney has declared himself Emperor of Alpha Centauri, and Amav finds herself abducted aboard her son's spaceship.
Background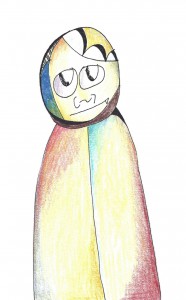 I changed the original title, Seven of Cups/Beyond DamnStar, to Collapse and Delusion upon completion of Draft 3. My original idea for the novel was to tell the story of what happened after the Battle of DamnStar in 2036, where everyone at the conclusion of Nonprofit Chronowar knows that the Alpha Centaurians will lose the war on May 14, 2053, but all, including the Alpha Centaurians who understand they're doomed, must fight for seventeen more years anyway. Not quite sure I wanted to continue the Jack Commer saga just yet, I turned my attention to notes for a literary novel about illusion, which I called Seven of Cups after the scary Tarot card. But after a while I saw that my literary notes were a rambling and unwritable mess, so I went for the story of the bridge to 2053 and used engineer Phil Sperry's guilt about his brainwashing in Alpha Centauri as my investigation of illusion. But I finally saw that the amalgamated title Seven of Cups/Beyond DamnStar was too much a mouthful, that one would have to picture the Waite deck's Seven of Cups and that "DamnStar" can't carry the title anyway.
At first I wanted to use the word "illusion" in the title, but finally I decided that "illusion" connotes something confusing and tempting which is presented to you from the outside, as in the Seven of Cups Tarot card. "Delusion" connotes something you've agreed to, something taken inside and made part of yourself; it's more deeply rooted. The AC's–and Phil–seem more into delusion than illusion, even though the Seven of Cups card is more about illusion.

I had also wanted to keep "beyond" in the final title, but in the original Beyond DamnStar, "beyond" had the meaning of temporal distance. But used in, for example, "Beyond Delusion and Collapse," the meaning changes to surmounting or transcending or recovering from, and creates too positive a title, a "feel good" sense.

So something blunt like Collapse and Delusion is more of a warning bell. Putting "Delusion" first in the title would seem like a natural cause and effect thing, but putting "Collapse" first is stronger, as it questions the cause and effect, which happens to be germane to this novel.
Characters
Jack Commer, Supreme Commander, United System Space Force
Amav Frankston-Commer, Jack's wife and planetary engineer
Jonathan James Commer, Jack and Amav's son
John Root, 2043-era Heroes and Villains of the Thirties robot
Phil Sperry, former Typhoon II Engineer/Physician
Greeney Gooney, Mayor of Marsport and Martian Star General
Clopt, the Alpha Centaurian Emperor's Head of Security
Hedrona Bhlon, Foremost Gladiator of the Sled
K'ufunb, Jonathan James Commer's Fkuuh scrubwoman
Contents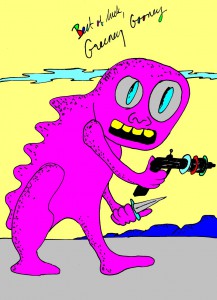 1. A Mix-Up of Many Emotions
2. Why Aren't You in Uniform?
3. Dar's Astrology
4. Hedrona
5. The Borman Challenge
6. Into the Continuum
7. The Games at the Collapse of Empire
8. Hedrona's Sled
9. But What Does That Mean to Animals?
10. Information Wisps
11. The Stellar Nursery
12. John Root Chats with an Individualized Zarj
13. Clopt the Animal
14. Who is Greeney Gooney?
15. The Proposal
16. The Counseling of the Remnants
17. A Message from Our Dear Author
18. So You've Been in Counseling All This Time?
19. Why Would I Destroy This Planet?
20. A Fragmented Encyclopedia of Recent Self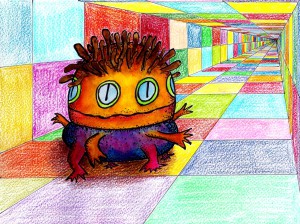 21. The Cult of Amav
22. This is Senator Lee Borman Calling the United System Council!
23. The Castle
24. Jonathan James at Home
25. When the Grid Ignites
26. It Floods Through Amav
27. Port Wing Hover Failure
28. The Mad Plan
29. Puppets!
30. Pack Leader Changes!
31. Oh, Most Holy Head
32. John Root Rewrites the Program
33. The Only One Who Can Handle the Full Plug
34. Marry the Scrubwoman? Or Engineer a Warp Transfer Accident to the Alternate Universe?
All words and images (except the published cover) copyright by Michael D. Smith