The CommWealth system, introduced just six months previously, has outlawed private property. Your house or your clothes can be demanded by anyone to be enjoyed for thirty days. As actors in the Forensic Squad theatrical troupe struggle to adapt to the resulting chaos, CommWealth probes their breaking of the Four Rules, and several members find themselves leading a suicidal revolution.

Published by Sortmind Press

eBook:
Amazon
Barnes and Noble
Smashwords

paperback:
Amazon
Barnes and Noble
lulu.com (mass market-size) 

Reviews at Amazon and Goodreads
Synopsis
Introduced six months ago, the CommWealth system has outlawed private property. Playwright Allan Larson has adjusted well to this new society, easily claiming umbrellas, mansions, and Porsches from fellow citizens. Any object from your house to the clothes you're wearing can be demanded by anyone, to be enjoyed for thirty days before anyone else can request it. In order to make this society workable, CommWealth has implemented its Four Rules governing the transfer of property:
1. I have thirty days' enjoyment of this object.
2. You may not ask me for anything for thirty days.
3. I can only ask you once.
4. You can never get it back.
Still obsessed with his ex-girlfriend Lisa after their breakup, Allan invokes the laws of CommWealth to demand ownership of her. Meanwhile bicycle mechanic and fledgling actor Richard Stapke seduces Jill Constantine, co-owner with her husband Steve of the Cup of Fog coffee shop, headquarters of the theatrical troupe Forensic Squad.
After a drunken Richard discloses that he's secretly been writing novels and plays for years, Allan incautiously spreads the word that Richard is a genius. But an official CommWealth claim is made of Richard's entire literary output, and the resulting five-volume Stapke Intimacies not only reveals Jill and Richard's affair, but brings to light a twisted history of betrayals, double agents, and murder that propel Steve Constantine and other Forensic Squad members into a suicidal revolution.
Background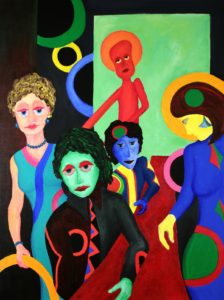 For a long time I called this novel Property and I sent out some queries on it until I realized that the novel needed some serious revision. I changed the title to CommWealth after seeing a novel called Property in a bookstore and realizing how common the title is. Library work had also shown me how often the same titles are appropriated, for instance Flashpoint with dozens of novels by that name. Although of course one can never guarantee total uniqueness, I was determined not to recycle trendy-sounding titles for any of my novels. "CommWealth" implies "property" as it heightens the totalitarian nature of the bureaucracy the characters must cope with.
CommWealth was first published by Class Act Books in 2015. After the demise of that publishing house I subjected the novel to a thorough copyediting. Though I changed no characters or plot, this 2020 clean-up reads a lot better and definitely strengthens the novel.
The painting shows the main characters meeting in the Cup of Fog coffee house, the headquarters of the Forensic Squad acting troupe.
Characters
Allan Larson, 31, supercilious, narcissistic Forensic Squad actor and playwright
Lisa Arlington, 32, professional actress and Allan's former girlfriend
Jill Sheridan Constantine, 30, Steve's wife and co-owner of the Cup of Fog coffee shop
Steve Constantine, 32, Jill's husband and co-owner of the Cup of Fog coffee shop
Richard Stapke, 31, owner of Richard's Bicycle Repair and fledgling Forensic Squad actor
Erica Thora, 37, Richard's model girlfriend
Contents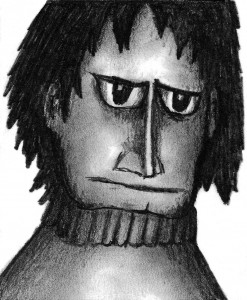 1.  I Have Thirty Days' Enjoyment of This Object
2.  You May Not Ask Me for Anything for Thirty Days
3.  I Can Only Ask You Once
4.  You Can Never Get It Back
5.  After the Kiss
6.  Why Don't People Go After What They Want?
7.  Just Like Musical Chairs
8.  Now He Needs Art
9.  Toilet Bowl Theater
10.  Hiding the Hitler
11.  Giving Birth to the Spaceship
12.  The Requestors
13.  Richard Stapke's Entire Literary Output
14.  Jill Takes Charge
15.  Modal Property Assignations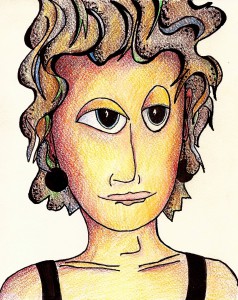 16.  Time to Reassert a Little Authority
17.  The Raid
18.  Brain Foundation Dismantler
19.  The Stapke Intimacies
20.  Don't You at Least Feel Expressed?
21.  Dumpster Deaths
22.  She and Richard
23.  First Reviews
24.  Reading it Through
25.  I'm the One Who's Kept Us Going!
26.  Wavelengths
27.  Erica Returns to Get Her Stuff
28.  Over the Top?
29.  Will You Respect My CommWealth Rights?
30.  The Losers
31.  You Might Even Get a Blindfold
32.  The Limousine
33.  Erica's Request
34.  From Kansas
The Dream
The idea for the novel came from the first part of these notes from a dream ("Their Satanic Majesties Computer Software Guide"). The second part, "The Tremendous Romance," wasn't used in the novel. The third part, "The Library Fantasy," also wasn't used, but has a similar tone to that of the novel's ending.
Design Considerations for New Writing. A Sort of Plot.
"Economics As if People Mattered"
Their Satanic Majesties Computer Software Guide
The Tremendous Romance
The Library Fantasy

Part 1.  T.S.M.C.S.G.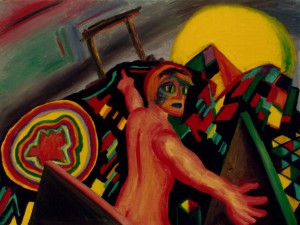 Character: Allan. An actor. Also supercilious asshole. Masks true identity. But he is aware of this problem–also doesn't know how to get to the truth. His compulsive sexual fantasies destroy his sex life with his girlfriend, Ann. His whole life revolves around his fantasies. But he is such a good actor that he manages to pull off an acceptable front to the world. His penalty: that he doesn't even know himself. His fantasies and sexual acts grow more and more absurd.
As story opens, Allan is walking, sees a Porsche or whatever, and asks the owner for the car.  Owner must relinquish it. In the next pages we see, casually treated, as astonishing variety of "free transactions" like this. Everything is free in this society. You just ask for it. There is a 30-day waiting period before one "possessor" can ask for that same item back from the new possessor of it. There is subtle retaliation–for instance, the Porsche owner, while not allowed to act angry about giving up the car, does go ahead and ask for Allan's coat and tie. Allan recognizes the maneuver–he always manages to make his askers "pay" somehow himself. The other technique is to hide as much of what you've got as possible. But these people are constantly castigated as "hoarders" and surprise inspections of homes, and publications of people's inventories, are common. Often you are called up at night and asked for several of your items over the phone, with instructions on where to leave them for pickup.
Allan has adapted to this society well.
At home (he got a new suit and tie, but only for reasons of personal vanity), Allan stays up to 2:00 AM writing. He knows it is poor. Mostly he is writing out sexual fantasies involving Lisa, a woman he once had an affair with. Meanwhile Ann sleeps in the next room, vaguely aware of Allan's distance.
Allan writes various poems and "confessions," in an attempt to express all his pain, or get one line of real truth out. But he always misses. He's never correct. He buries the poems in coffee cans out in the back yard. There are fifty or sixty cans buried out there. One reason is his paranoia–no one, least of all Ann, must ever know. Secondly, even writing is not considered personal property. Folders of poetry, or novels, are registered on one's "inventory" and can be requested by others.  Allan has never yet lost any of his poetry. (He just started writing last year, "under the pressure of it all," and plans to write a play "someday," that "will finally express everything.")
He buries the can in the morning, after Ann has gone to work as an insurance accountant. He then moodily walks to The Cup of Fog.
The Cup of Fog is a coffee and tea house run by a married couple, Jill and Steve. Another character there is a friend of Allan's, a former doper, now a soccer player and bicycle racer, named Richard. Richard is totally into being fit and healthy now. Yet there is a subtle need for friendship going on between him and Allan. Allan thinks of Jill and Steve as "mystically stable," and longs for that sort of relationship–even though he recognizes that he probably wouldn't want to remain in a monogamous relationship. He changes too much. Allan is vaguely aware that both Jill and Steve "tolerate him" only, that they consider him too neurotic (although he is a great actor, they know). Yet Richard, considered everyone's friend, links them all.
Allan spends all morning drinking coffee and engaging in various discussions with Richard, Jill and Steve. Allan doesn't work, not needing to because of the "free" law. (Most people do choose to work, however–a brief age of total freeloading was followed by almost zero production, and gradually people realized they needed to work, both for their own sanity and to keep some semblance of a society going). Richard doesn't work, either, but spends the entire day training. His "work" is with the city's professional soccer team, anyway. Allan tries to argue that his "work" is the theater, but he knows himself he doesn't spend enough time really developing himself. Again, he feels he is cheating.
Around eleven AM Lisa comes in to buy a cup of tea and leave. She is pleasant to Allan, but the old strain is there. She leaves. Allan suddenly has a plan. If everything is free, then why not Lisa? He spends the rest of the afternoon nervously plotting his plan. He knows she always shows up as a certain bar on Friday evenings after work, sees a bunch of her friends there, etc. In fact, it was even mentioned during the Cup of Fog conversation, and Allan took it as some significant hint.
At five, he goes to the bar and finds her. She is nervous. He then blurts out that he wants her, and then states that she must comply, for everything is free. She refuses. He asks for all her clothes, right then and there. She still refuses. "Shall I call a cop?" Allan says. Conversation gets quite absurd. "The law hasn't ruled on whether people own their own bodies," Lisa maintains. Allan says that the law states that everything is free, everything must be forked over. Lisa pulls the "price" maneuver and asks Allan for his house. "Fine, but you must give yourself to me."
They go to the house and resume their old affair. But Lisa is angry anyway. She reveals that she's been trying to start a new relationship–with Richard. Allan is shocked, and terribly hurt and jealous. And then he realizes that Lisa owns his house, that he and Ann must move out and ask for a new one. Yet the coffee cans are buried on the property. Lisa says (not knowing this) that she'll dig up the entire back yard for a garden and also a swimming pool next week–long before the 30-day limit expires and Allan could reclaim his house.
Allan realizes that he doesn't even want Lisa to know of his fantasies. In desperation he tries to ask for rights to material buried in the back yard. Sensing victory, Lisa denies this. Allan throws himself on her mercy and reveals the contents of the cans. Lisa says she will dig them up this very night and publish all of them.
Part 2.  The Tremendous Romance
Allan finds himself "asked" to work in Australia and reluctantly, after consulting an attorney, leaves for Australia. More than property is indeed involved in "everything being free." Evidently an old résumé was found kicking around inside a computer, and whatever company wanted him could have him.
Journey to "island" at south of Australia. Of course, Allan had visited Australia once as an exchange student and knew the place–perhaps that was one reason he was chosen. When he gets to the quaint seaport town, he is totally surprised–it has twenty or thirty students, or faculty, from that Sydney university here, all working out their interesting careers. He only knew them tangentially but is overjoyed to see them.  These people all decided to work in this same "dying" town and revitalize it as an experiment–but found themselves changed by it, and decided to live and work here for real. A whole string of interesting, colorful characters. Allan finds he had been chosen to work in the town's detective agency, working with two aboriginals and one white man. One aboriginal is Holly, the brains of the outfit, although the black man is supposed to be in charge. The white guy is fairly crazy, but a good detective. Allan gets to know everyone in the town, including the doctor (formerly university professor) and all his patients.
Allan narrowly avoids being knifed by a street punk and then watches this punk kill someone (or something). His inaction contributed. The detective team sets out to find this guy. Allan begins to see that he is much like the man they are seeking–he feels he doesn't belong in the team anymore. A lot of remorse. After a long chase, all three others are killed by this man. Allan must pursue.
Part 3.  The Library Fantasy
Richard receives the numb Allan back and tries to soothe him. An all-night exercise session, "better than those all night drug sessions we used to do." Lisa told him what happened and Richard, after much reflection, decided to forgive and forget. But Allan is numb and feels destroyed, feeling that he has steadily ruined himself since he was 20. All this through Richard. Yet Allan's inner state brought out through much conversation. Wandering through the old University grounds–a vast, somewhat scary park. Dawn, and buried dream of Brown-Jones conclusion of mythic day at Rice–Brown-Jones like a spaceship on the pad at dawn.  Something intelligent is happening here. Allan feels spaced out, totally confused. Richard guides him inside to the gray "church." The "easy mix" of religions and sexuality in "this society." The woman who dances in her leotard in the aisle. Astonished, Allan notices that it is Jill–expressing herself. His whole picture of her, of her and Steve, of the Cup of Fog, and lastly, of his own potential, abruptly shifts.
"My God, I could never come right out and do that," Allan says in awe. "I just couldn't afford to."
"Sure, you can afford to," Richard says. "We all have that within us."
"But–it's so difficult–"
"Yes, it is difficult. But once you make up your mind to pay the price, it becomes easier and easier. See how easily Jill pays the price of her freedom."
All words and images copyright by Michael D. Smith