Berserk at missing his five hundredth point in a row, psychopathic Junior Dropout Basketball League star Billy Bolamme kills a taunting radio announcer with hand grenades, then blows up an entire sports arena to erase all witnesses to his crime. But his fame and luck can only grow as he joins shamanic forces with Guenevere "Universe" Ryder, fellow high school dropout, art gallery receptionist, and unwitting accomplice to thirty thousand murders.

Published by Sortmind Press

eBook:
Amazon
Barnes and Noble
Smashwords

paperback:
Amazon
lulu.com (mass market-size) 
Synopsis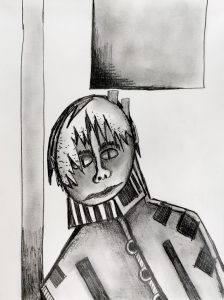 Art gallery receptionist and high school dropout Guenevere "Universe" Ryder watches her sixteen-year-old boyfriend, star center Billy Bolamme, curse out fellow players, commit dozens of fouls, and punch out referees who challenge him. Dan Ryder, Uni's father and the Bolammes main announcer, and Frank Chester, Dan's younger sidekick, playfully discuss their prejudice for the home team, the Billy Bolammes, over the public address system.
Billy is huge, meaty, and psychopathic. He wears camouflage shorts with a dozen hand grenades at his belt. His father Hiram, coach of the team, is an ineffectual, dreamy art gallery owner who started the Junior Dropout Basketball League with his wife Madeline, director of the Bolamme Center for Hurt Feelings.
Raging at insults from the announcers, Billy throws a basketball through their glass booth, injuring Dan. When a backup player crosses him, Billy gives him one of his grenades along with a request to sneak a beer out to the court. As Billy scores sixty-six points in a row, a muffled explosion signals Wally Raphael's death in the locker room.
Before a game at Baltimore with the Bazookas, Billy plants five Billy Bolamme Supreme basketballs by a natural gas line in the Dreamsong Arena basement. He starts the game with 450 points in a row, but at 498, he misses a three-pointer and rages at the crowd.
Frank Chester, announcing in the absence of the injured Dan Ryder, ridicules Billy's resulting temper tantrum over the P.A. system. Billy batters Chester, ties him up, and leaves him to stare at two hand grenades wirelessly connected to Billy's basketball. When Billy goes to the court and completes two baskets, Chester's booth explodes. Then, to eliminate all witnesses, Billy triggers the Billy Bolamme Supreme basketballs stored in the Dreamsong basement by the gas lines.
One week later, Dan Ryder interviews Hiram, but before long they're arguing about Jonathan Mueller, the crippled lone surviving witness of the Baltimore disaster, who's given testimony about Billy's involvement in the murder of ten thousand Baltimore fans.
In Maine a month later, in a televised game against the Plattville Hoods, Billy starts at 984 points scored in a row, then gets to 999 and misses a final free throw. After arming his Billy Bolamme Supreme, he leaves the arena and goes across the street to wait.
One more week passes, and Ryder interviews Billy before a game. They discuss Billy's international fame and the twenty thousand people killed in the Plattville explosion, which Billy attributes to people trying to assassinate him. Then Mongar Frederick of the Plattville Homicide Bureau enters the radio booth, advising Ryder to play commercials for several minutes while he asks some hard questions.
Characters
Billy Bolamme, sixteen-year-old wunderkind of the Junior Dropout Basketball League
Guenevere "Universe" Ryder, art gallery receptionist and Billy's sixteen-year-old girlfriend
Hiram Pebley Bolamme, Billy's father, coach and owner of the Bolammes basketball team
Madeline Bolamme, Billy's mother and the director of the Bolamme Center for Hurt Feelings
Dan Ryder, Bolammes main announcer and Universe's father
Emala Ryder, Universe's mother and dean of the Billy State University School of Library Science
Frank Chester, former Bolammes player and now Bolammes co-announcer
Mongar Frederick, detective with the Plattville Homicide Bureau
Jonathan Mueller, surviving witness of the Baltimore disaster
Contents
Maybe it was That Low-Cut Cocktail Dress
The Radio Booth
Encyclowhatever, by Universe, or, The Library School's Library
The Pregame Show
Billy has Racked Up an Amazing 450 Points in a Row
The Pebbled Orange Surface of his Basketball
The Official Junior Dropout Basketball League Guide to Ocean Singe Horror
Never Can Tell When You Might Need a Natural Gas Line
It's Really Been Quite a Lucrative Deal All the Way Around
Snooty Art with Sexy Receptionists, or, Her Outfit for Any Given Day Costs More than You Will Ever Make Selling Your Paintings
The Planet Lamura, Star System 63
A Vast Stretch of the Universe Where Alien Beings Might Sense Pain and Show Up to Inspect It
Billy State University
Plattville
DENY! DENY!
I'm Just Watching the Dome, Dude, That's All
The Yellow Armies of Risk
Detective Mongar Frederick
For Thirty Thousand Lifetimes
All words and images copyright by Michael D. Smith