Book Three of the Jack Commer, Supreme Commander Series
Ranna Kikken creates the Committee to End Suffering on Planet Earth at her nonprofit Cat Farm, but its first conference in 2020 is destroyed when Jack's younger brother Joe inadvertently time-travels from 2036 to lecture Ranna's complacent nonprofit ladies about the destruction of the Earth in 2033 and the resulting evacuation of the remnants of humanity to Mars.

Published by Sortmind Press

eBook:
Amazon
Barnes and Noble
Smashwords

paperback:
Amazon
Barnes and Noble

Reviews at Goodreads
Synopsis
The 2020 conference of The Committee to End Suffering on Planet Earth is ruined when Joe Commer, former United System Space Force pilot, inadvertently time-travels from 2036 to find himself lecturing CTESOPE on the coming breakdown of the solar system and the destruction of the Earth itself in 2033. Tormented by his role in dropping the Xon bomb that ended the Final War but rendered Earth uninhabitable, Joe has quit the Space Force, much to the disgust of his older brother Jack, Supreme Commander of the USSF.

The irresponsible young Urside Charmouth of 2020 fears he's ruined the universal timeline with his obsessive experimentation with Heuristic Time Transition. Ranna Kikken seethes at Joe's invasion of her CTESOPE conference, but against her will is intrigued by his suffering and his apocalyptic predictions for the next thirteen years.

Derelict Robbert Geswindoll worships the all-powerful Celestions, knowing they'll provide answers to the shocking natural disasters befalling the entire solar system. Joe is stunned to find that a younger version of Jackie, the woman he loves in 2036, is Ranna Kikken's sister.

Urside and his girlfriend Mandy travel to October 2033 to discover a crippled moon and the proof of Intruder Joe's predictions. Meanwhile Joe forms a partnership with his brother Jack's detested enemy, the treasonous Huey Vespertine. On their radio program Geswindoll badgers Joe with the cruel news that Joe's own ship, the Typhoon I, was responsible for the Ranna Kikken's death during the 2033 evacuation of Earth.
Background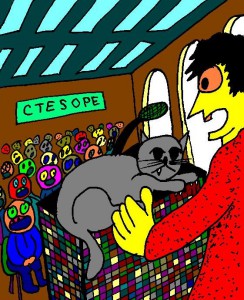 Nonprofit Ladies, as the original title went, was originally intended as a purely literary novel. I also wanted it to be a short six-month project which would pull together a lot of recent themes. I began sifting ideas with a method which sometimes produces stunning results and which sometimes just wastes energy on bland sorting: collecting disparate ideas written on slips of paper over the past few years, adding new ones, then sorting them across a table until something jells. I included not only saved notes, but folders of photos, clippings, newspaper and magazine articles stretching back many years, along with idea files, recent dreams, and any older writing that attracted my attention.
Basically the point was: I must have saved all this stuff for a soul reason–what was it? Maybe all this sorting took longer than it should have, but I did wind up reading a lot of old saved articles, old ideas, novels and stories of mine, and did a lot of ruminating. Before long I had seventeen stacks of notes in these categories:
1. Animals–Wild / Nature / "Physics"
2. Raw Tao
3. Zany / Future / Sci-Fi
4. Nonprofit Ladies
5. Big Shared Nightmare
6. Children / Beauty
7. Libraries / Preservation
8. Sorrow / Passion
9. Art / Raw Energy / Sex
10. Zen / Taoists / Science!
11. Old Things–People–Society–Methods / History
12. Absurd / Humor
13. The Aristocracy
14. Animals Interacting With Society
15. Kids in Trouble
16. Politics / Civilization
17. Overviews
The sorting wasn't merely conceptual. The final categories were heartfelt. However, in retrospect I see how sorting all my notes into these categories may have hindered the deeper feeling necessary to push out a real story.
A dream coalesced the notes into a science fiction story. In the dream, I open a dull brochure and let my "cursor of attention" rest on a picture of a Houston school bus. The cursor shows the picture to be a hyperlink, and it warps me and a coworker straight there from Dallas, to that bus on a deserted Houston street. Now here's a business opportunity, I think–to create human transport hyperlinks. We then link to Austin, where my coworker steals my car and drives north, abandoning me to a mysterious double life I've apparently led in Austin for some time.
So time travel became central to the novel. And somewhere during the sorting a science fiction series intruded: The Martian Marauders and Jack Commer, Supreme Commander. I found that I wanted to explore some of the traumas the main characters endured in the earlier novels, especially Joe, with his guilt about having pressed the button that destroyed the Earth in 2033.
Experiments that did NOT work included inserting characters from older works like Sortmind and The Soul Institute into the novel, as well as incorporating an ancient short story, "Zorexians." The long detours these additions caused was a major lesson for me. While it did make emotional sense to make this novel function as the third of the Jack Commer series, there was no point in trying to tie in those vastly unrelated works.
The Title Change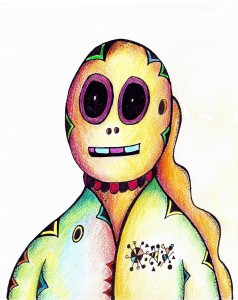 Seeing The Martian Marauders published got me thinking, a lot more seriously that I had previously, about how titles are perceived by the buying public, and I realized that "Nonprofit Ladies" does not really sound like a science fiction title. The women running the nonprofit organizations and their ineffectual attempts to come to terms with inexplicable solar system disasters are really just a subtheme. (And really, there are just two nonprofit ladies, Ranna and Hedrona.) The main force of the book is space pilot Joe Commer's war guilt and the United System Space Force realizing that all along it's been fighting a war based on time travel.
The title Nonprofit Chronowar gives a nod to the first chapters where Joe scolds the naïve ladies and their Committee to End Suffering on Planet Earth, but offers up the main theme of the book as well, marrying the two concepts in an interesting phrase that says "science fiction." The title also indicates the futility of the war, which both sides know the Alpha Centaurians will lose seventeen years in the future, but which both have no choice but to fight anyway.
Characters
Earth 2028
Ranna Kikken, 47, Founder of the Cat Farm and the Committee to End Suffering on Planet Earth
Urside Charmouth, 32, Webmaster of the Cat Farm, heedless experimenter with Heuristic Time Transition
Churchill, 5, Russian Blue cat at the Cat Farm
Robbert Geswindoll, 58, Ranna Kikken's derelict fiancé, bathetic poet, later a USSF public relations official
Hedrona Bhlon, 40, Ambitious manager of the Cat Farm and later Director of the Artemis Museum
Mandy Frederick, 30, Secretary to a plastic surgeon and reincarnation of an ancient Martian empress
Mars 2036
Jack Commer, 32, Supreme Commander, United System Space Force
Joe Commer, 31, Former USSF space pilot and inadvertent time traveler, younger brother of Jack
Dar, 2,216, Emperor of the Martians
Alycia Klave, 24, Former USSF spacecopter pilot, later Urside Charmouth's love
Huey Vespertine, 31, Dissolute, treasonous cofounder of the Vespertine and Commer AresNet program
Jackie Kikken Vespertine, 35, Huey's wife and Ranna's errant younger sister
Polot, 212, Ship's Archivist aboard the Alpha Centaurian Imperial Flagship GnlSaljPraraq
Contents
1. The Committee
2. Are You Ready for This, Nonprofit Ladies?
3. Planetary Malaise
4. The Celestions
5. Jackie in Turquoise Jewels
6. Logon to the Big Shared Nightmare
7. Dar
8. Vespertine and Commer
9. Found in the Wreckage of Passenger Shell Pegasus
10. Home
11. Alycia of the USSF
12. Society is an Awesome Phenomenon, Not to be Lightly Dismissed
13. World Mystery Karma
14. Meanwhile, the Animals …
15. At StarSeed
16. Strange, Festive Dreamscape of Pollution, Despair, Defiance, Defeat
17. Repairing the Moon
18. Slaughter of the Fantasies
19. Final Transition
20. Graduation Drive Anomaly II
21. Earth Renewal Party
22. The Dented Painting
23. Polot of Zorex
24. Prison Planet Earth
25. DamnStar
26. USSF Detention
27. The Writhing, Pre-Universe Foam of Energy Possibilities
28. Last Links
All words and images (except the published cover) copyright by Michael D. Smith