A twelve-year-old girl living at a rock commune near Austin, Texas in the summer of 1975 observes the rise and fall of the Akard Drearstone Group as she falls disastrously in love with the group's severely disturbed bass player.

Published by Sortmind Press

eBook:
Amazon
Barnes and Noble
Smashwords

paperback:
Amazon
lulu.com (mass market-size)
Synopsis
Jan Pace, a twelve-year-old girl at the Akard Drearstone commune north of Austin, Texas, watches Akard Drearstone and his fellow musicians setting up for what they think will be a small concert on their dirt parking lot. Jan, who knows she's in love with the twenty-seven-year-old bass guitarist Jim Piston, tries to comfort him while he freaks on marijuana. Meanwhile, to everyone's shock, thousands of Akard Drearstone Group fans have invaded the parking lot and the vast fields beyond.
During a break, the musicians discover that Dallas businessmen have bought Freeway Accident Records along with the Drearstone Group's manager, Harray Andreall, onetime member of the commune. Commune member Bill Dunn is invited to play guitar on "Overturned Runway," but narcs raid the concert and kidnap him.
At the Overturned Runway Bar, named in honor of their song, the musicians begin to realize how famous they're becoming. Michelle Morgan, journalist and fiancée of Harray Andreall, explains the principles of her new philosophy, Exponentialism. Declaring bassist Piston to be the core genius of the group, Michelle interviews him for Worthless Weekend Sunday Magazine and seduces him during the interview.
Harray and Michelle fight about Buddhism on their wedding night. En route to the reception at the commune, Harray plunges into metaphysical horror. To soothe him, Jan takes him to see her horse at the barn–but there they discover a dead body packed in ice.
Though he tries to convince the sullen members of the group that their musical experiment is worth continuing, Harray's boss has been arrested on murder charges, the record company is on the verge of collapse, and Harray is dumbfounded to discover a second killing perpetuated by a second band he manages.
Contents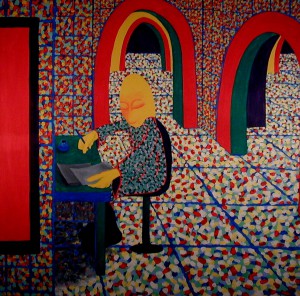 1. A Free Commune Concert
2. Katrina Regan Journa
3. Regarding the Cinder Block Incident
4. Let's Get Some Alpha Waves Going
5. The Anti-Forest
6. The Beer King
7. Gathering Insanity
8. A Big Gray Monster Benignly Surveys the Approaching Carnage
9. Is That Your Animal?
10. Overturned Runway
11. Isn't She Great?
12. Possibly Underground Tunnel in the Air?
13. Jimmy Blackmere
14. The Psychobeauty
15. Mindfulness
16. The Group Discusses His Death
17. Genius and Metaphysical Horror
18. His Advice on Dope and Women
19. Flowing in All Directions, or, Which is My True Self?
20. The Two Percent
21. Out the Window
22. Dostoyevsky Commune
23. The Wizard Dyson Annersnex
24. Welcome to the Commune
25. Masturbation in Denmark
26. Bleemblo Motorcycle Repair
27. The Waterfall of Creation
28. First Scene of the Videotape
29. Blood Tunnels
30. Anti-Consciousness
31. Jim Screws Up a Take
32. Can't You Take a Joke?
33. The Buried Dream
34. Katy, Don't Show That to Anyone
35. The Exponential Imperative
36. The Bishops
37. A Map of this Entire Sector of the Universe
38. I Never Realized Weeds Were So Beautiful
39. Paramedics
40. The Anti-Jim Piston Conspiracy
41. A Full Description of the Insanity of the Underground Tunnel in the Air Concert on Saturday, August 30, 1975
42. Demented BS at Lunch
43. I Find a Bowl
44. I Pay Homage to the Concept of Pete Sponge
45. The Musicians Crap Around
46. A, B, C, D, E
47. My Astral Projection
48. The Air Conditioner
49. The Failure of Akard Drearstone
50. Day One: Harris County Courthouse
51. Interlude: Investigations Later That Night
52. Day Two: A, B, C, D, E
53. Day Three: Jim Piston's Day Before the Lord
54. Akard Drearstone
55. Death of a Motorcycle
56. Eighteen
57. How We Lost Track of Our Friend
58. Across the Commune
59. At the Fence
60. Drearstone Corporation
All words and images copyright by Michael D. Smith