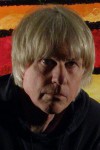 Sortmind.com, created in October 1999, is an overview of my writing and art. Since August 2010 I've also maintained a blog at blog.sortmind.com where I muse on writing and art processes. In the spring of 2015 I ported sortmind.com to the WordPress platform.
old.sortmind.com still exists in its 2015 incarnation, though–a vast archive of my work, most of which wasn't carried over to the new site.
My wife, Nancy Remp Smith, has a web site, geoshaman.com, concerned with channeling, shamanism, Norse and Egyptian gods, and the Blue People. It also has numerous images of her paintings.
Sortmind is a novel I wrote about the Telepathic Database, urban architectural wars, and two sets of aliens with opposing ideas about how to deal with the human race. "Sortmind" is the name of the program that runs the Telepathic Database. I wrote the first version of this novel from 1987-1991 and thoroughly revised it in 2016. It's is not quite where I want it to be and awaits another draft.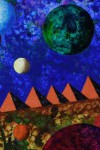 I was raised in the Northeast and the Chicago area, then moved to Texas to attend Rice University, where I began developing as a writer and visual artist. In addition to exhibiting and selling paintings and drawings, I've completed sixteen novels. I placed a novella, The First Twenty Steps, on Barnes and Noble's Nook Press, on Amazon's Kindle Direct Publishing, and on Smashwords in order to offer some sample work and to experiment with e-publishing processes. There is a fledgling Sortmind Press which will see more activity.
My Jack Commer, Supreme Commander science fiction series is published by Double Dragon Publishing and consists of Book One, The Martian Marauders (2012), Book Two, Jack Commer, Supreme Commander (2012), Book Three, Nonprofit Chronowar (2013), and Book Four, Collapse and Delusion (2016). The fifth, The Wounded Frontier, is forthcoming from Double Dragon, as is Book Six, The SolGrid Rebellion.
CommWealth, my dystopian, black comedy novel about a society in which private property has been outlawed, was published August 2015 by Class Act Books.
The Soul Institute, a literary and coming of age novel about a mythic return to the sanctuary of a vast foggy university of Soul, was published December 2015 by Sortmind Press.
My writing in both literary and science fiction genres has psychological and spiritual themes, but also humorous aspects. Or so I intend.
Visual artists are supposed to have "Artist Statements," so here's What Passes for an Artist Statement on blog.sortmind.com.
All words and images copyright by Michael D. Smith