An answer to any question is delivered in a telepathic instant. But is a database of all our queries and responses being used to track the progress of a coming apocalypse? High school art students Oliver and Sam struggle to define themselves in the face of urban terrorism and the malfunctioning, reality-altering Sortmind app.

The blog ruminates on the 2016 revision which is changing everything.
The 2016 Revision
In 2011, the year after I thought I had finalized a perfect 2010 Sortmind manuscript, and at a time when I was sobering up about the writing profession with the publication of The First Twenty Steps and The Martian Marauders, I began making radically new notes which I added to every few months, positing the elimination of the original library setting in favor of a software company, thus driving an entirely new structure. It took me a while to realize I was dissatisfied with my 2010 version, and the notes became the guiding force behind this new revision.
I finished Sortmind Draft 7 in August 2016, starting from an overweight 175,000 words and finishing at 141,297, having cut over 34,000 words or 195 pages, the equivalent of a short novel. The most basic change is getting rid of the silly architectural controversy and making the focal point of the conflict a controversial new telepathic app called Sortmind, created by the Trantor Group, a business, thus no longer pushing a library as a setting or librarians as characters. This removed a major attachment to the original book and forced rethinking of every chapter and character.
Overall I'm still not sure if this will wind up being a publishable novel. Version 7 almost reads like a rough draft.  Yet the experiment needs to be made, and I'm eager to press on with a Draft 8.
Synopsis
Barbie Malroux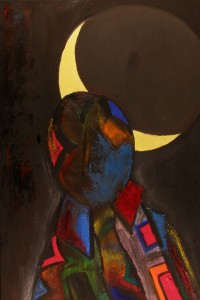 , a Canterra Art Institute cheerleader, shames architect Mitchell Emerson for his stale, doctrinaire architectural work. Drained by his abuse of the Justice Information System, the hot-tempered Emerson accesses a racy telepathic personal ad and is led to FeverBurger employee Shelley Bosworth.
When a newly-hired employee Mindwipes, screaming that he's an alien from planet Cnzaar, Trantor Group CEO Peter Trantor begins to fear a dangerous glitch in his telepathic Sortmind app's billions of lines of computer code. Meanwhile high school art students Oliver Perrine, traumatized by the terrorist bombing of the public library, and Sam Emerson, coolly pragmatic and politically aware, struggle to define themselves against their fascist fathers, the founders of the reviled Citizens Against Telepathy. Sam's sister Teresa  discovers she's a link in generation upon generation of power people, and that she and Oliver belong to the secret society of Tree Leopards.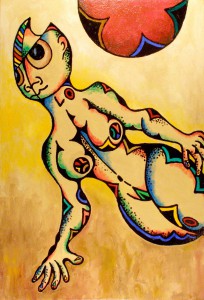 Mitchell Emerson telepathically reviews his girlfriend Shelley's files after she proclaims that she too is an alien from Cnzaar. A library clerk invents hallucinogenic Concentrated Telepathic Tablets and spreads them to the Canterra Art Institute. When Sam and Oliver trip on CTT, Oliver loses his grip and threatens to kill himself. But he later maintains that he and Sam were kidnapped aboard a flying saucer, and that the cat K'han, a Tree Leopard comrade, rescued the boys.
Thalia Aster, the charismatic mayor of Canterra, is unable to hold the city together as fanatic CAT and Open Telepathy Foundation factions go into overdrive at the Pledge of Resistance Rally. Trapped in the burning Trantor Group skyscraper with Oliver and the mayor, Sam tries to reconstruct his personality from scratch. OTF Director Edward Duce seeks asylum at Oliver's garage apartment. In thrall to him, Oliver feebly tries to articulate his theory of art and life, "Shackism," against Duce's Mindwiped paeans to the all-encompassing Sortmind.
Characters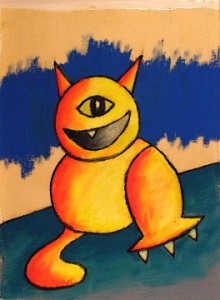 Oliver Perrine, student at Canterra Art Institute
Randall Perrine, Oliver's father and co-founder of Citizens Against Telepathy
Mitchell Emerson, architect and co-founder of Citizens Against Telepathy
Sam Emerson, Mitchell Emerson's son and Oliver's best friend
Edward Duce, founder of the Open Telepathy Foundation
Peter Trantor, CEO of the Trantor Group
Anna Winstead, young Canterra businesswoman
Barbara Emerson, Mitchell Emerson's ex-wife
Teresa Emerson, Mitchell Emerson's daughter, and artist
Elise Perrine, Oliver's younger sister, and poet
Shelley Bosworth, employee at a FeverBurger restaurant
Suzanne Ramsey, VP of Sales at the Trantor Group
Contents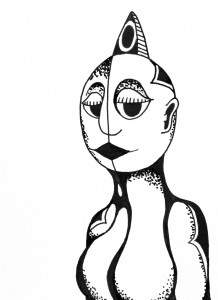 1. Architect and Cheerleader
2. Justice Information
3. The New Hire
4. Mindwipe
5. The Trantor Guarantee
6. Emerson and Shelley
7. Escape to Suzanne
8. Escape to Teresa
9. Escape to Goethe
10. City of Canterra Council Meeting
11. Peter and Anna
12. Liberation at Grafton
13. Revelations
14. The Anesthetizing Effects of Damage
15. First Meeting of the Tree Leopard Society
16. Battle in the Forest
17. Emerson Minus Shelley
18. Emerson's Searches
19. A Severe Piece of Karma
20. Shelley's Searches
21. Roseparker in Control
22. A Box of Old Songs and a Strange New Dread
23. Servant
24. Manfred and Anna
25. Follow-up to Servant
26. Elise on the Beach
27. Perrine and Emerson
28. Nightmare Mode
29. I Have a Right to Dodge a Book, Don't I?
30. Codebreaker
31. Suzanne Sunset Universe
32. Let Me Shatter Your False Assumptions and Replace Them with Some of My Own
33. The Fifteen Amp Heavy Duty Power Cord
34. Young Oliver: A New Artist for Canterra
35. The Art Show
36. Life and Death Squadron
37. The University of Canterra Automobile Fanciers Association
38. Anna
39. Pledge of Resistance
40. I've Changed My Mind!
41. Yet Another Suzanne
42. Why Should the Peter Entity and the Anna Leopard Get Back Together?
43. Rebuilding the Index
44. The Cat Synthesis
45. The Warehouse
46. We Lose Much of the Original Crowd
47. Shackism v. Sortmind
48. So This is What the Lives of Non-Artists Are Like
49. The Glorious Train Horn in the Night Through the Thin Garage Door
50. The Way Station
All words and images copyright by Michael D. Smith